PHOTOPRIME
New double charging technology enables to make 3 independent shots per sec which can remoue unwanted fine hair more effectively over existing, conuentional products in the market place.


Technical Specification
SOURCE
Xenon Flash Lamp
WAVELENGTH
450 ~ 1,200nm
STANDDARD FILTER
Non-Cooling HP:560(m), 590(m), 640(W)nm
Cooling HP : 640nm(Quartz)
FLUENCE
2~80J/cm2(1puse basis:up to 45J/cm2)
SPOT SIZE
8x34(Quartz), 10x38(M),12x46(W)mm
PULSE TYPE
Single, Double, Triple, Multiple
PULSE DURATION
5~300ms
PULSE DELAY
5~99ms(1~3 pulse) / 5~780ms(Multiple pulse)
REPETITION RATE
Up to 3 Hz(3 shop per sec.)
COOLNING HP SYSTEM
Peltier Cooling System
CONTROL
10.4" LCD Touch Screen
ELECTRICAL REQUIREMENTS
AC 220V+-10% ~50Hz/60Hz, 10A
LAMP LIFETIME
50,000 shot guaranteed per handpiece
WARRANTY
1Year
CONSUMPTION POWER
1,500 Watt
DIMENTIONS
502 x 565 x 1046
WEIGHT
46kg
PHOTO SPRAY
As we design and build to satisfy you, we've applied advanced technology, programs, and services you need to make the most of your investment We've achieved creating an outstanding Intense Pulsed Light system, called ' PHOTOPRIME' performing exceptional efficacy by utilizing latest technology with proven clinical applications. It ha Dual Handpiece and Dual Power. which dramatically increases versatility and durability of the use. High peak pulse width and shorten the shot repetition rate have created new function. called 'Photo Spray'. which shows great result especially on fine hair removal.
What is 'Photo Spray'?
Photo Spray function has been created upon the request to produce an IPL with more efficient performance on fine hair removal, It uses controllable high peak pulses with fast shot speed(3 shots per sec). Thank to the double switching technology enabled by Dual Power system, Photo Spray is designed to treat on unwanted fine hair quite quickly and effortlessly It is used by non-contact treatment method and doesn't require gel on skin Using wider spot size(5.52cm2) filter and non-contact treatment method will boost the treatment speeds enormously, which will bring many positiue benefits to both of practitioner and patient
PHOTOPRIME Highlights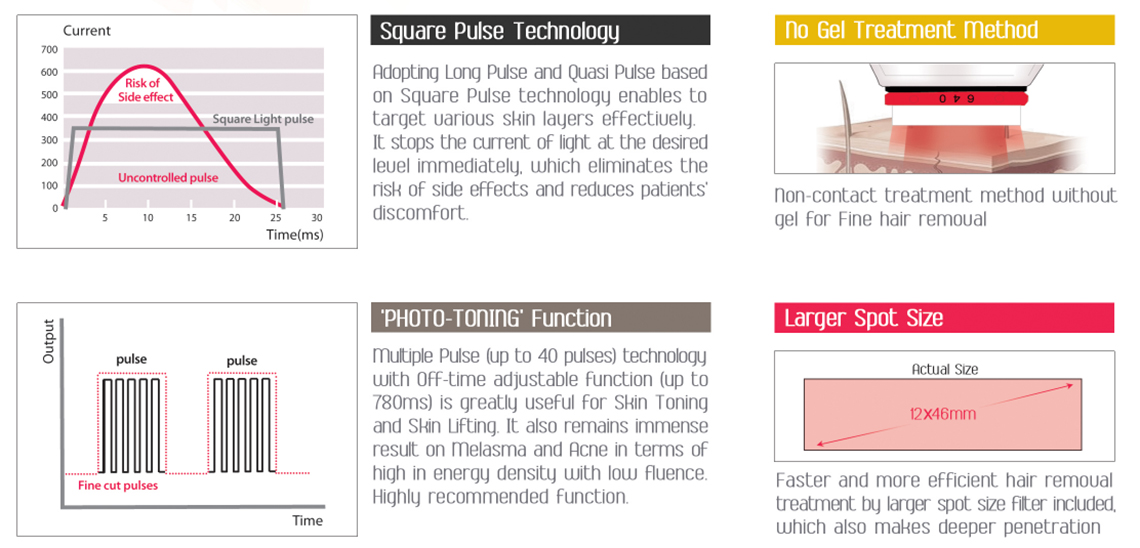 SPECIAL FEATURES
Dual Handpiece. Dual usability
One standard handpiece & One Contact Cooling handpiece attached and 100,000 shots guaranteed (50,000 per handpiece)
Dual Power System
Newly developed 'Twin Power supply' reduces charging speed, resulting fast shot repetition rate and increases durability due to its double power system
Powerful but sophisticated Filter selection
Standard HP
Cooling HP
Filter
Changeable
Fixed
Standard Package
Select 2 sizes
Select 1 size
Available Filter Size
8x34mm(Quartz)
N/A
560, 640, 700nm
10x38mm(Middle)
450, 530, 560, 590, 640, 700nm
N/A
12x46mm(Wide)
640nm
N/A
12 levels of Skin Color Selection
more refined Skin Color selection allows more precise treatment